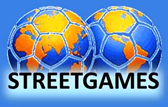 "Tell me and I forget,Teach me and I may remember,
Involve me and I learn."Benjamin Franklin
Global Problem
Whether employed, unemployed, homeless or a refugee, young men and women are not only feeling disengaged but are struggling as they transition from education to the workplace.
Technological advances are also impacting the future employment of young people, where automation is displacing lower skilled jobs at an increasing rate. We need to equip young people not just with the technical skills needed but equally to be emotionally competent and resilient to deal with the emerging gig-economy which is defining the Fourth Industrial Revolution.
Ultimately we believe using games – sport, music, Internet of Things - as a context (the engagement hook) provides opportunities to participate in life, tackle social exclusion and create real impactful social change.
Using the power of attraction that young people have for popular games, music and sports, YP2G's StreetGames programmes develop the critical life skills and can do attitude that set young people on the right path. A can do attitude and soft skills (STEM) are also the non-academic skills employers desire and are fundamental in developing entrepreneurship.
Our STREETGAMES Programme
By inspiring people to be all they can be, developing a Can Do attitude increases people's motivation for life and success. This in turn helps them develop as a person, increasing confidence, self-esteem and self-efficiency all whilst developing trust. Includes practical soft skills training (STEM).
Creating social change is a team effort. We adopt a unique TEEM approach:
✓

Training – developing the technical skills needed to play the game or sport
Engagement – the theme that ensures personal commitment
Education & Employability – classroom & web-based development
Mindset – the YP2G programme for life-changing actions
12 Week Programme – 1 day per week with sample schedule
2 hours: GAME COACHING (TRAINING & ENGAGEMENT)
Each weekly session activities are led by coaches or teachers. Participants will:
Improve physical and mental health and overall well–being
Increase fitness, confidence and enthusiasm for life
Be in a safe and positive environment
Improve their social skills and hopefully make friends along the way.
Lunch break
2 Hours: SKILLS TO SUCCEED WORKSHOPS (EMPLOYABILITY & MINDSET)
Developmental workshops with mentoring support offered throughout.During the course, participants will develop vital employability and work-readiness skills such as:
Communication, Organisation, Goal-setting, Personal budgets, Team-working,CV-writing, Job search, Presentation skills, Interview techniques.. and more. Our Mindset coaching will further enable participants to improve the following:
Self-Belief System, Mental Health, Confidence, Resilience, Outlook Features the YP2G programme – The Brand of Me.
Ongoing mentoring and YP2G online programme is also provided to support candidates after the course concludes.
Does it work?
The Brand of Me was delivered as part of the StreetGames (Soccer) programme that I worked on in partnership with Gillingham Football Club Community trust. I witnessed first-hand the considerable change in attitude from the participants who were long term homeless and unemployed. Daniel Blewett – Gillingham Coach
We launched YP2G in Pakistan in May 2018. We have now added StreetGames and our Street Cricket programme aimed at unemployed young people has been a huge success. Ali Jafri – Pakistan Country Manager YP2G
How we work in partnership:
Our partners typically supply local coaches or teachers specific to a defined need. YP2G trains and supports coaches and teachers to deliver the 12 week programme. YP2G's unique online programme supports candidates from the outset and beyond the initial residential 12 week programme.
Targeted age group 16-25 years although programmes can be designed for younger candidates.
Want to Partner with Us and change the fortunes of Young People?